Following the controversy surrounding the Clicks advertisement, former Public Protector, Prof. Thuli Madonsela, weighed in on the debate. The responses to her criticism of the EFF protests that forced Clicks to close down 400 stores were dehumanising and an attack on the dignity of one of our country's most remarkable black female leaders.
Allow me to start off by saying that I have no place in commenting about the merits of the grievances against the Clicks advert as a white man. I can only try to practice empathy, but can never truly put myself in the shoes of a black woman who may have been offended by Clicks' massive mishap. What I have no qualms about, however, is pointing out the hypocrisy of the supposed champions of the cause, who are accused of petrol bombing, storming, vandalising and looting from Clicks stores around the country.
Firstly, it puts anybody who may have been sympathetic towards black women's grievances on the back foot and serves as an obstacle to the progress we need to be making in terms of transforming South Africa's culture and particularly the lack of sympathy towards these very real issues that we face due to media bias, structural racism and subconscious racism or microagressions. Secondly, what does the destruction, cancelling or shutting down of Clicks stores actually achieve in terms of empowering black women? Absolutely nothing. And, thirdly, where are the EFF protesters every time a black women is raped or abused by her husband, partners or random perpetrators of violence?
Two in five South African men have admitted to raping a woman in their lifetime, while three of five have admitted to being physically abusive, according to a 2016 study conducted in Johannesburg's densely populated township, Diepsloot. And perhaps more worrying is that only one of over 500 cases of sexual assault filed that year resulted in conviction. Why is the incredibly loud, popular and influential leadership of the EFF not calling on South Africans to march on our courts or applying political pressure to radically transform the country's culture and our legal system?
And, with this taken into consideration, why is it that Prof Thuli Madonsela, the incredibly popular former Public Protector who took on Jacob Zuma's corrupt administration and won, cannot speak out against the hypocrisy of the EFF and Mr Malema?
Some of us can see through misogyny masquerading as protecting black women and a self interested Gucci clad middle class masquerading as protectors of the working class #DailyThought

— Prof Thuli Madonsela (@ThuliMadonsela3) September 8, 2020
After all, not only because she is a black woman, but because she is an incredibly well respected and revered woman by all South Africans (or apparently just most of us), is she not more qualified to offer her opinion on the events taking place? Rather, she is met with dehumanising ad hominems that paint her as nothing more than a "coconut", among other smears.
She's embarrassing and exposing herself, her spoilt brat kid must take the phone or ipad before she does more damage to her profile.

— BlackBonedMzamaneOfRSA💭🇿🇦 (@MrSoWhat31) September 8, 2020
Oh now you've joined the gang of wanting to see blacks wearing Pep store clothes? No Prof, don't do this to yourself. I understand that you might be angry after being baptized in fire yesterday and today but ma'am, you can argue better than this. You're becoming an embarrassment

— BlackBonedMzamaneOfRSA💭🇿🇦 (@MrSoWhat31) September 8, 2020
The irony here is a Public Protector who has chosen a seat on the dinner table of the oppressor instead of her own. History will judge u harshly Ma'm. Worse even when that public protector is perceived to be a a thoughtleader because she wears the title of a Professor. Sies!! pic.twitter.com/PsbJJO4wkm

— Moleja (@ModiselleLl) September 8, 2020
Wena u'r used by Stellenbosch Mafia ,no wonder u thinking that way.U also wear wigs that's why u can't c a bigger pic here.What kind of reasoning is that 1 nxa!.

— Mosupye Refilwe (@MosupyeRefilwe) September 8, 2020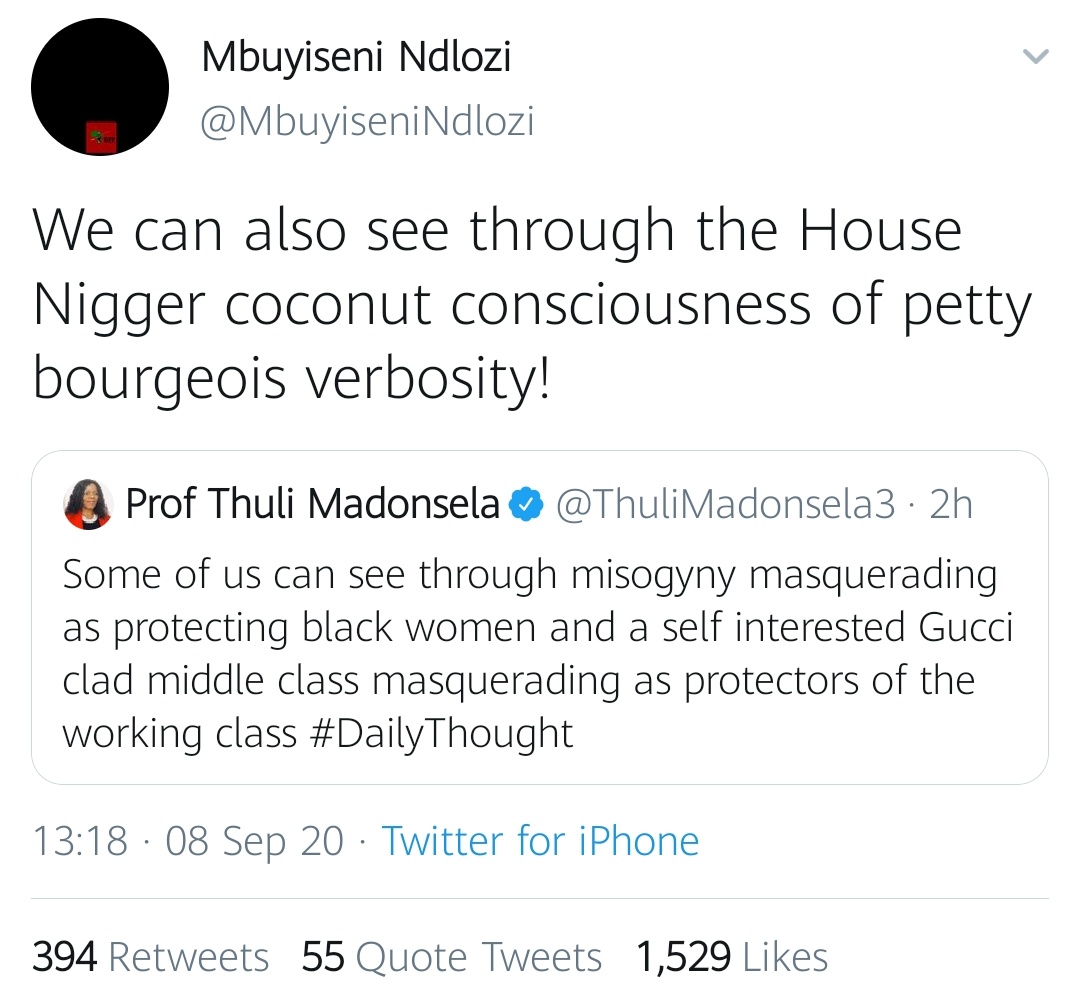 If we were truly fighting for black women, should we not be the champions of inspirational figures like Prof Madonsela? Is it not a good thing for young black girls to look up to Thuli and be inspired to become an extraordinarily successful lawyer, author and academic, among countless other incredible things that makes her a shining example of black excellence? Or does it all depend on who the Professor associates herself with? Have white South Africans become so dirty in the eyes of the EFF and their supporters that freedom of association is no longer an inalienable right?
The answer to this is quite simple. The EFF is, indeed, masquerading as a party of the people. They are piggybacking on media outrage as an act of pure political expediency. And, the fact of the matter is this resembles the political tactics employed by Adolf Hitler and the Nazi Party in their rise to power in the 1930s.
The EFF's criticism of Thuli Madonsela over the Clicks advert shows they cannot call themselves a populist, socialist party anymore. They are a wolf in sheep's clothing. They are fascists.
*This article was written as an opinion piece and reflects the opinions of the author, not necessarily those of the Essential Millennial. For more updates on current affairs in South Africa and around the world, visit our News & Politics section.