As South Africa slips deeper and deeper into the COVID-19 pandemic, many countries around the world are starting to recover. People are going back to work, and industries are starting to open up. One industry in particular – that drew crowds of tens of thousands on a regular basis – is having to make a lot of adjustments in order…well…get back in the game.
After weeks of waiting, sporting events around the world are trying to get the ball rolling again as lockdown restrictions are relaxed. There's still need for caution, though. Like many other aspects of our lives, it's likely that the way sporting events are organised will need to see a lot of long-term changes.
---
New rules
According to Saba Aziz for Al Jazeera, Germany's Bundesliga football league, Korea Baseball Organization and the Ultimate Fighting Championship have all restarted, albeit under strict regulations, and they'll soon be followed by Golf's PGA Tour and New Zealand's Super Rugby. According to the BBC, "the Premier League in England has a tentative return date of 12 June – but there is a 'growing feeling' this will need to be pushed back."
But with the threat of the coronavirus outbreak still extremely prevalent, these events are being reshaped to suit our new pandemic and post-pandemic landscapes. Many matches are being played behind closed doors, and there are no crowds of fans cheering on their favourite teams. This alone will be a massive adjustment for both the players on the field – who draw energy from the crowd's enthusiasm – and the fans who frequented games and now are unable to.
Simon Chadwick, director of the Centre for the Eurasian Sport Industry, told Al Jazeera that "Crowds and stadiums are a part of the sport product … if there are no people inside stadiums, the sport product changes fundamentally. It's different straight away, and so this is not necessarily a return to normality," Simon Chadwick, director of the Centre for the Eurasian Sport Industry".
German football expert, Constantin Eckner, writes for the BBC that the atmosphere in the stadium of the first closed-door Bundesliga game was "bizarre and eerie".
"This kind of sterile football is isolated from any outside emotion. Fans do not only scream and cheer throughout the match, but they also react to success and failure. Behind closed doors, the matches feel less consequential despite the outcome of the season still being at stake."
In an effort to create a more positive atmosphere in eerily empty stadiums, some clubs have resorted to increasingly creative methods. One such club, Korea's FC Seoul, even came under fire for accidentally using "sex dolls" as fake spectators in the stands.
It's not just the atmosphere in the stands that has changed drastically. Players are now having to undergo frequent coronavirus testing and Aziz writes that they also have their temperatures checked before games and are required to wear masks and maintain physical distancing. She adds that "on the field, group photos and children accompanying players are banned together with spitting and handshakes. Hugs and high-fives are strictly discouraged. Elbow bumps and foot taps are recommended."
In addition to that, "In the United Kingdom, Premier League footballers will not be permitted to tackle and will only practise in groups of five when team training resumes". What these precuations mean for the game and its outcomes is going to be an interesting learning curve.
Despite the regulations, Eckner wrote of the Bundesliga game he attended that "the match looked as normal as ever, with players not hesitant to engage in physical duels or getting close to each other in the moments before a corner kick". He added that many of the hygiene precautions employed appeared only for show, and that the hygiene protocol still has its weak points.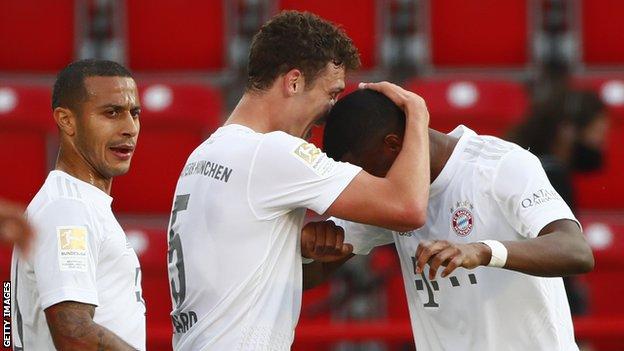 Economic impacts
Every person involved in the organisation of sporting events – and not only the players – has been hit hard by the coronavirus pandemic. It has forced the postponement or cancellation – as in the case of France's Ligue 1 – of just about every major event, which in turn affects revenue from broadcasting, sponsorships and, of course, ticket sales.
Aziz cites an analysis by Sports Innovation Lab that states "the US sports leagues – NFL, NBA, NHL, MLS and MLB – are estimated to lose at least $3.2bn in gate revenue from mid-March till the end of June". Add to this $850m worth of losses in Britain from football, cricket and rugby collectively and a potential $1bn of revenue loss for Spain's football league, La Liga, and the effects of this pandemic are staggering.
As much as governments are trying to support the floundering sporting industry, they've got a lot on their plate. The government of New Zealand, for example, is injecting $157 million into the industry (over a period of four years) to "[provide] the support needed to sports at all levels to remain viable, get stronger and adapt". In comparison to the revenue the industries are losing, though, it's clear they'll take a knock even with government support. Less economically stable nations will have a harder time negotiating this kind of support for their sports industries.
To play or not to play?
Another issue to be considered is whether the public, as much as they love sport, even wants games to resume under the current circumstances.
According to polls, fans are on the fence about whether players returning to the pitch is a good thing or a bad thing. Aziz cites one such poll which found that "more than 70 percent of respondents said they will not attend games until a COVID-19 vaccine is developed".
Al Jazeera reports that "a majority of Germans oppose the resumption of Bundesliga football season, according to surveys conducted by public broadcasters ARD and ZDF". Many European football clubs are also urging sporting authorities to maintain the ban until going to stadiums is safe for spectators once again.
On the other hand, president Donald Trump is one who is strongly in favour of live sports resuming as quickly as possible – and he's been particularly vocal about golf.
"We want to get sports back, we miss sports," Trump said. "We need sports in terms of the psyche of our country. And that's what we're doing."
He later added, according to the New York Times: "We want to get back to normal where you have the big crowds, and they're practically standing on top of each other and enjoying themselves, not where they're worried."
While there's still much trepidation and uncertainly surrounding the commencement of sporting events, it can't be denied that millions of fans around the world are excited about being able to watch their teams on TV once again.
However, the post-pandemic sporting landscape is still being shaped and we've yet to see many of the adjustments that will need to be made in order to give fans their fix in a safe and enjoyable way.