I don't know about you, but I'm struggling to keep track of all the little tweaks and changes I've been seeing on instagram this year. In an effort to increase functionality and help support small brands, instagram rolls out improvements and updates almost every week – some of which you may not even have noticed. We've compiled a list of some of the most important new Instagram features to help you grow your brand and learn how to make the most of the social media platform going forward.
---
What's new?
Messenger and Instagram unite!
By now you'll know that Facebook owns many of our favourite apps. And yet, we still find ourselves talking to the same people across all of them.Now, facebook has announced that it's improving our insta DMs by adding features from Messenger so that users can communicate more smoothly across these two apps.
"People are communicating in private spaces now more than ever. More than a billion people already use Messenger as a place to share, hang out and express themselves with family and friends," Facebook said. "That's why we're connecting the Messenger and Instagram experience to bring some of the best Messenger features to Instagram – so you have access to the best messaging experience, no matter which app you use. People on Instagram can decide whether to update immediately to this new experience."
Now, people who usually contact you on Messenger can get in touch on Instagram without having to download the Instagram app, and vice versa. You'll also be able to join video calls from either regardless of which platform you're on.
The new Watch Together feature gives users the option to watch videos with friends during a video call on IGTV, Reels, Facebook Watch, and more.
Further improvements include personalised chats ( such as changing the colours and shortcuts for your favourite emojis), selfie stickers (Create a series of boomerang stickers with your selfie), Animated Message Effects ( animated send effects which add some flair to your chats), and designated replies ( which allow you to respond directly to a particular message in the chat).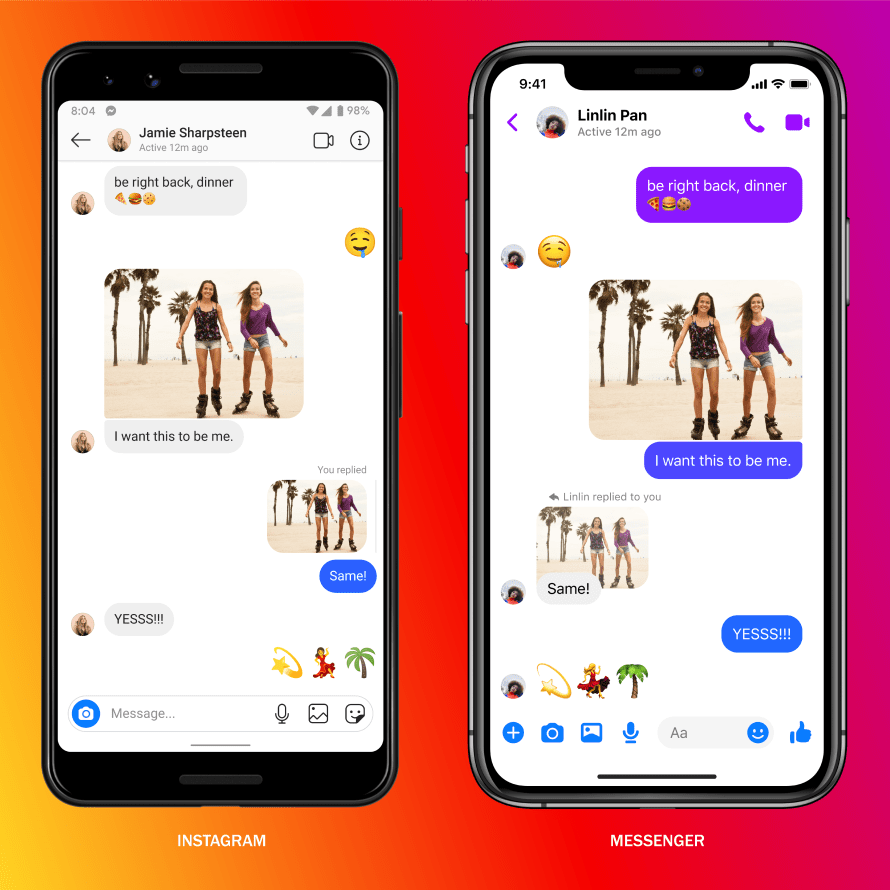 Fee for caption links
According to EmbedSocial, it's possible that Instagram will start allowing links in captions – for a fee.
"If this feature rolls out, once Instagram detects a link within a caption, they will show a pop-up asking for payment to activate the link. In the patent application, the price is set at $2, but it is still unknown what might be the actual price," they report.
Currently, only accounts with over 10k followers and verified profiles can add links to their stories. Everyone can add clickable links in their bios, but this move might make linking to brands with each individual post a little easier for those who wish to direct traffic to an online shop or organisation outside of instagram.
New home screen
Instagram is currently testing three versions of the home screen, so if you think things have shifted about, you're not losing your mind.
This is a little confusing for some of us, who were used to how things were, and personally, I'm not a fan of what they've done to some of my own accounts.
Adam Mosseri, Instagram head said in a post that "these changes reflect shifts we're seeing from people, both in how they use the product but also how they push culture forward on Instagram: rise of creators, explosion of video, acceleration of online shopping".
Reels
You'll have noticed by now that Instagram is trying to jump on board the Tiktok trend with its reels function. This is particularly successful now that the future of Tiktok in the US is so uncertain.
Reels began as 15-second video, but Instagram has now bumped that up to 30 seconds. There will probably be a number of changes in the Reels features in the near future, as instagram gauges its success. It would not be a surprise if, like Tiktok, they soon extend the length of their Reels videos to 60 seconds.
Shopping on Instagram
Instagram is trying to make it easier for creators to grow their brand and earn a living, so they're allowing us to buy and sell on the platform.
Instagram checkout makes it easy for users to buy products without ever having to leave the app. Once you've set up your Instagram shop creators can tag your individual products in posts, you can notify your followers of product launches, and you can even sell products in real time while going live with with the Live Shopping feature
Fighting bullying online
This month Instagram has started testing a new feature that automatically hides comments which resemble others that have been reported. You'll still be able to tap the "View Hidden Comments" button to see exactly which comments have been hidden, but this feature will at least prevent you from having to see them if you don't want to. This year has been a rough one and we could all do with fewer negative vibes in our lives.
They're also expanding their comment warnings to include an additional warning when people repeatedly try to post comments which may be offensive.
"Since launching comment warning, we saw that reminding people of the consequences of bullying on Instagram and providing real-time feedback as they are writing the comment is the most effective way to shift behaviour," says Instagram on their website.
Stories
By now you'll probably have noticed the new fonts in your stories. Recently, the app has also included a moving text function. Instagram is constantly adding fun things to include in your stories, so keep an eye on your stories to see what they add next!
Remember to play around with the thousands of fun filters in your Instagram story to really get the message you want to convey across, or just be a little more creative.
What have I not seen these new features yet?
Instagram is constantly adding new features (and removing some of the old ones!) – now more than ever be for. It can be easy to miss some of the changes if you're not a daily user.
In addition, the app tends to roll out its changes in an annoyingly staggered way – presumeably to test out how they work on a percentage of the population before applying them universally.
This means that your friends may see changes on their accounts before you do, or – even more frustrating – if you manage multiple accounts you may see new features on one account and not on others.
The only way to deal with this is to exercise your patience. It'll get to you eventually. Until then, best just to wait it out and learn how to make the most of the features you do have.
Happy gramming!